I Want To Re-mortgage My House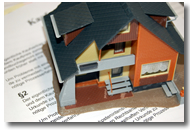 Timing is often a critical factor when you re-mortgage your home. You need the work to be done as quickly and efficiently as possible. We will act for you and your new Lender as well as dealing with paying of your existing mortgage and registering your new one.
We will carry out all the necessary searches on your property and ensure all the conditions of your mortgage offer are complied with.
We will always discuss completion dates with you to find out how soon you want your re-mortgage to complete - most straight forward re-mortgages can be completed within ten working days of receipt of your new mortgage offer.